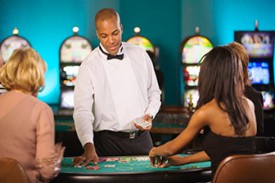 Predicting Casino Business Outcomes
NAMC is the leader in Native American casino workforce research, having conducted studies of nearly every aspect of talent management in tribal casinos. These studies have contributed to our proprietary archive of casino research results and provide data for testing our predictive workplace models. Based on our predictive models, we are able to significantly impact targeted business outcomes through application of our employee job fit assessments, performance measures, and training tools. Typically, our methods improve business outcomes by at least 25% over other approaches.
A few examples of our research in casinos:
Our seminal studies on Bias Against Native Americans in HR Tools included over 30,000 workers and resulted in a set of HR tools with no bias against Native Americans.
Our job analysis research on all casino jobs included 749 subject matter experts from 12 casinos, and resulted in job competency profiles for 228 gaming and hospitality jobs to guide training, succession planning, and selection.
Our research on leadership effectiveness included over 100 tribal leaders from government, businesses, and tribal services; the study results provided competency profiles for identifying, training, and managing high potential tribal leaders.
Our employee selection research in casinos resulted in a selection screen based on job fit that reduced interviewer work load by 60%, reduced turnover of entry-level employees by 51%, and provided career development feedback to tribal members.
We have also conducted research in casinos on training effectiveness and costs, organizational commitment, compensation, predictive analytics, employee turnover, and performance. As part of a larger research project on predicting casino employee job performance, turnover and business outcomes, we conducted interviews and focus groups with over 30 casino executives who had used the NAMC online tools. All of the executives expressed their support for use of the NAMC tools in their gaming facilities. This is a summary of their feedback.
Theme One: NAMC online tools can improve the bottom line of a casino property through more effective human capital management.
Job applicant screening will significantly improve employee fit to jobs, thereby reducing turnover, reducing training costs, increasing work performance, and increasing job satisfaction.
More effective employee performance management will result in more accurate performance appraisals and compensation, as well as directing training.
Identification of underutilized talent within the employee base will enhance ability to place existing employees in jobs where they can thrive and be more productive, with a higher retention of our top talent.
Theme Two: NAMC online tools can enhance casino leadership.
Implementation of the online succession planning process will more reliably identify and prepare high-potential leaders.
The NAMC leadership development process will fill the pipeline for future leaders and equip them with critical skills and tools needed for success.
Competency modeling across all casino jobs will help leaders understand job fit and job performance across the facility.
Theme Three: NAMC online tools can improve the lives of casino workers.
Better identification of employee strength areas and areas for improvement will help managers coach and guide casino employees into career paths that better match their interests and capabilities.
Placing employees in teams where they fit will help them all gain the most useful experiences needed for furthering their careers.
The NAMC online social networking portal for the TMS, the learning management system and dynamic reporting will engage employees and provide a variety of learning opportunities for career success.